Athletic Update for 11/15/18 (8:06 AM) JH Basketball scrimmages are rescheduled for Monday, 11/19. JH Bowling and Wrestling practices are cancelled. All HS sports practices are TBD. Please look for word from your coach. #staysafe #babyitscoldoutthere #gorockets
Ridgedale Elementary: A special presentation to honor our Veterans.
Ridgedale Elementlary: Please help our school reach our food drive goal!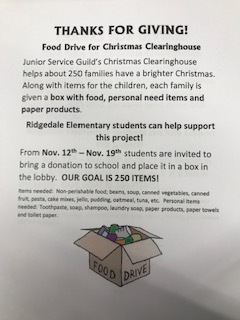 Ridgedale High School Veteran's Day Assembly, 98 year old WWII Veteran Mr. Kensel Clutter, Mr. Dan Shealy and Mr. Chris Dingus all presenting today to our students.
Thank you Ridgedale High School Teen Institute for coming over to talk to our 4th & 5th grade about Drug Awareness.
Ridgedale middle school and high school teachers refining co-teaching practices today. Mrs. Lindsay Rellinger from the NCOESC presenting.
All schools in the Ridgedale district are on a two hour delay today, November 2.
Ridgedale Elementary: Mr. Staton is enjoying his Wednesday Winner lunch crew!
Powder Puff Football Game for tomorrow has been cancelled.
Ridgedale Schools were saved from the evilness of Mojo Jojo by the Power Puff Girls! #halloween
Ridgedale Boys Basketball is playing at Quicken Loans Arena! If you are interested in ordering tickets, please return the attached order form to the office by November 14th, or contact Ms. Parthemore (
jparthemore@ridgedaleschools.org
). (Sorry forgot to upload the picture last time!) #gorockets
Ridgedale Elementary: The Powerpuff girls save Ridgedale Elementary from Mojo Jojo!!!
Ridgedale Elementary: Look what has happened to the R.E.S. office staff after their first nine weeks!!!
Mr. Thiel, Mr. Greenwood, Mr. Otterbacher, Mrs. Swisher and Mr. Rossman participated in the United Way BW's Wing eating contest Friday at Grant Middle School, the Rockets downed 70 wings in 5 minutes. Great Job, Great cause!
That's the game: GCC-28 RHS-0 #proudofyou #gorockets #drivesafe
At the half: GCC-14 RHS-0 #gorockets
There will be a parent meeting on Saturday 10/26 at 12:00 Noon for all girls in grades 7-12 interested in playing girls basketball.
Thank you to the Marion County Highway Garage for allowing our Art Club to "Paint The Plow"
Mrs. Berridge, Mrs. Casto, Mrs. Roush, Mrs. Ross and Mr. Rossman training at the Kehoe Center in Shelby. Suzy Pepper Rollins presenting ideas and techniques to grow all learners, great day!
High School Student Groups will be hosting Haunted Hallways at Ridgedale Jr/Sr High School!